Three More Sierra Games Go for the Gold!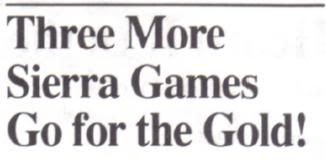 Very few software products are good enough to command sales of 100,000 units, and only the very best titles earn the coveted SPA Gold Medal from the Software Publishers Association. The SPA actually does an audit of company sales figures to verify sales levels of bestselling titles, so it isn't a small achievement when one is awarded.
With this in mind, Sierra is proud to announce that it has been awarded not one, but three SPA Gold Medals since our last newsletter in May. Titles awarded gold medals include: Kings Quest III (Roberta Williams, Space Quest (Scott Murphy and Mark Crowe and Thexder (Game Arts of Japan).
According to Sierra Marketing Director John Williams, the achievement of three awards is a special thrill for the company. "Each of the titles awarded the Gold Award continues to be a top seller." said Williams. Williams was especially happy about the success of Thexder, Sierra's first arcade title since 1985. "We were pleased to see that Sierra customers still love a good arcade challenge. Thexder went over well here in America - it was our bestselling title last Christmas."
Sierra now holds eight SPA Gold Medals, and is perparing to receive its first Platinum Medal (for sales in excess of 250,000 units) sometime before the next newsletter.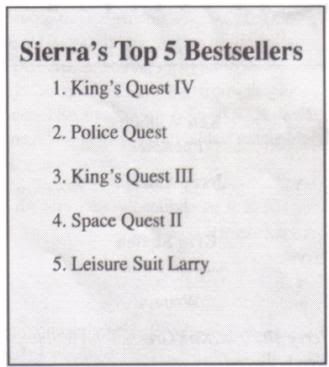 ---
This website is © 2010-2011 David Reese. All rights reserved. All images and content, including, but not limited to, the Interaction Magazine logo and articles from the magazine, are the property of their respective owners. Interaction Magazine has been made available to the public on the SierraGamers website, and is considered a part of the public domain. Image hosting provided by Photobucket.