Sierra's Own Lounge Lizards
"The Sierra On-Line Lounge Lizards," the official name of Sierra's mixed bowling team. And yes, the team shirts are our own Leisure Suit Larry baseball jerseys.
Members of the team include John Williams (Director of Marketing), Patrick Cook (Customer Service), Laurilyn Duston (Customer Service), Brenda Garite (receptionist), and myself, Leilani Gouveia - Team Captain (Customer Service). Our substitutes are Kim Covert (Dealer Service) and Allen (Lex) McPheeters (Programming). We are all members of the Women's International Bowling Congress or the American Bowling Congress.
The team meets every Monday night at 6:00p.m. at Sierra Lanes, the local bowling alley. We begin each bowling league night as we do each Monday, in the lounge.
At 6:30 the bowling begins. We start our customary way: Larilyn and Patrick with strikes and the rest of us with gutters. Larilyn has the highest average at 148 and is a member of the 500 club. The rest of the team follows a little bit (actually, a lot) behind her. Brenda, with her average of 90, does her best around her fourth beer. John, or left-hander, has an average of 96. Patrick the Powerhouse has a 135 average, and myself, a 98.
We've come to the conclusion that the pins are not user-friendly. Would you believe our handicap this week was 343? As a team, we are standing in eighth place out of 10 teams. But there is still time for improvement, we are in our seventh week out of 35. Oh well, we're only out there for fun.
And fun is what we have. As soon as the bowling is over, we head back to the lounge and live up to our name. We usually close the place around 11:00p.m. (Oakhurst rolls up the carpet at 10:00p.m.) So if we are a little slow when you call in on Tuesday morning, please forgive us and ask how we bowled the night before.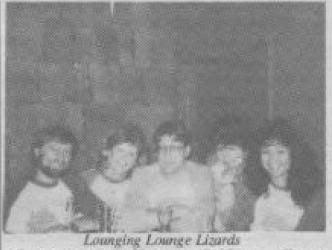 ---
This website is © 2010-2011 David Reese. All rights reserved. All images and content, including, but not limited to, the Interaction Magazine logo and articles from the magazine, are the property of their respective owners. Interaction Magazine has been made available to the public on the SierraGamers website, and is considered a part of the public domain. Image hosting provided by Photobucket.