Hello, Customer Service...
Each Time I answer the phone in Customer Service, I experience a small thrill of anticipation. Will it be Larry from Detroit with a specific question about HomeWord Plus? Or Doug from New York with news about his modem? Or how about a new voice, Tim, age 12, who wants to know how to get past the laser beams in Space Quest? For a few minutes each day, each one becomes the most important person in my life.
The Sierra Customer Service/Technical/Product Support team receives 2500 or more calls and 350 pieces of mail each week from Very Important People like you. The whole team pitches in to make sure that each of you has a positive experience whenever you deal with us.
Meet our team! Pat Cook is the "Pinball Wizard" who can whup us all at most games of skill. A graduate of Purdue University, Pat brings a high degree of technical expertise to the group.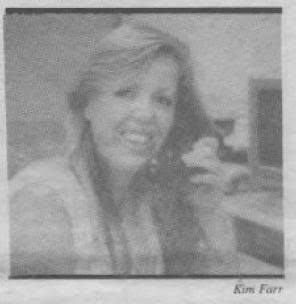 Our newest member is Kim Farr. Kim is brainy, charming and witty, and is quickly becoming an expert at all of our entertainment products. Call her for the best game hints in town.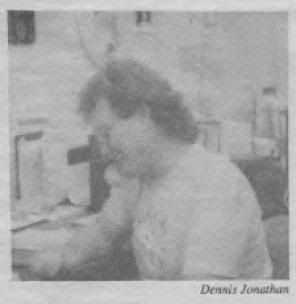 Dennis Jonathan is the team member with the longest standing. His experience enables him to assist you with the knottiest of problems.
Leilani Geoveia, who has been described as a real sweetheart by her customers, will patiently deal with any and all problems and questions. Contrary to popular belief, Leilani is not from Hawaii.
I (Larilyn Duston) bring over 15 years of experience in data processing, as a programmer, analyst, consultant and instructor to contribute to the team.
Annette Childs, Consumer Marketing Manager, is our team leader. She gives us enthusiasm injections and her four years with Sierra On-Line provide us with a fund of product knowledge.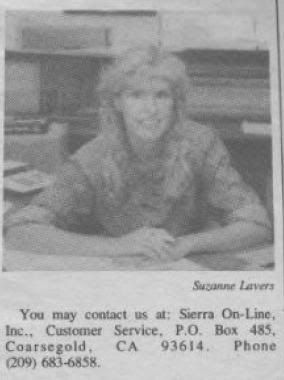 Suzanne Lavers is the lady who gives you quick service on your T-shirt orders. She also gets those hint books out to you, and makes sure we receive our incoming mail. Next time you write us, say "Hi, Suzanne" on the back of the envelope.
We're all here because we want to be… because we enjoy computers, games, and people. Sierra gives us the opportunity to really enjoy our work.
Whatever your reason for contacting us, a question, game hint, technical assistance, or just to say "Hi!", we hope you find us easy to deal with, helpful, and enthusiastic, and hope you receive more than you expected from the combined expertise behind our "Hello, Customer Service!".
---
This website is © 2010-2011 David Reese. All rights reserved. All images and content, including, but not limited to, the Interaction Magazine logo and articles from the magazine, are the property of their respective owners. Interaction Magazine has been made available to the public on the SierraGamers website, and is considered a part of the public domain. Image hosting provided by Photobucket.