Heard It In The Hallway (Sierra's Rumor Mill) - Winter 1988

A very early look at what lies ahead for Sierra in 1989/90…
First the bad news. In 1989, there will not be a new King's Quest, there will also be no Police Quest III, nor a Leisure Suit Larry III. Chances are, we won't even see another hot new action game from Game Arts of Japan. Roberta Williams (designer of the King's Quest series) is taking a sabbatical from Daventry for a while, and Jim Walls (Police Quest) is taking a 10-7 from his work at the Lytton police station.
Now for the good news…
Space Quest III is on schedule for a February release, and it promises to be the very best Space Quest yet. Originally scheduled for release in 1988, the program was held back by the Two Guys from Andromeda so they could use Sierra's new SCI technology to get the job done.
According to Scott Murphy, "… We wanted to do a hot soundtrack for the game (they've enlisted help from Supertramp recording star Bob Seibenberg to do all the music) and dazzling special effects are expected from space games. We needed the new graphics resolution (of SCI) to design the dogfights in the game. We wanted to be competitive with Steven Spielburg and we couldn't do it unless we improved our graphics resolution."
Look for Two Guys Scott Murphy and Mark Crowe to make a cameo role in their own game!…
Speaking of Mark Crowe, Mark just finished work in a self-proclaimed "B-Grade Horror Movie" called Night Drop. He's now starting work on a horror adventure game. Mark isn't saying much about the project, but "expect it to be a whole lot scarier than Uninvited was…" Don't expect it in 1989 though, it's slated for a January 1990 release!…
Looking ahead a little less further, we see Sierra's first true fantasy role-playing game since Ultima New Hero's Quest (working title) promises to be what 3-D Animated Adventure was to Interactive Fiction. Hero's Quest is being designed by accomplished dungeonmaster Lori Ann Cole. Expect it to have the look of the Sierra family of games. Mark Crowe's brother, Jeff Crowe, is designing the graphics for the game. Expect to see FRP Games as you've never seen them before!…
Also look for a new sequel to the shocking Manhunter: New York series in 1989. Sierra's hot new sci-fi series moves from New York to the Silicon Gulch as Dave, Barry, and Dee Dee Murry present Manhunter: San Fransisco.
The designers promise more of the action/adventure/horror mixture presented in the original Manhunter, but apologize in advance for the fate they'll deliver to the famous Golden Gate Bridge. According to Dave Murry, "… the bridges are the links from San Francisco to the rest of the world, which is something the orbs would never put up with. We'll have to disable them somehow - and it's liable to be pretty gruesome." Look for the new Manhunter around August.
Expect more to come from Al Lowe, designer of Leisure Suit Larry and Leisure Suit Larry II. Leisure Suit Larry, Al Lowe's most famout creation, lives on in Leisure Suit Larry's Party Games. It's not an adventure game, but it will be in 3-D and very animated…
Retired officr Jim Walls is taking off his uniform and trying his hand at undercover work in **Codename: Ice Man, a new spy thriller about high-tech weapons and high-tech crime. This is Jim's first adventure game that isn't biographical (Jim has never been a spy), but he is getting expert help with the design. Look for Ice Man in late summer or early fall.
Murder on the Southern Quarter (working title) is a new "co-managed" production between adventure designer Roberta Williams and television screenwriter Jackie Austin. Roberta and Jackie have been investigating the concept since Fenruary, when they met in New Orleans to discuss the concept. According to Roberta, "This will be a period piece, set in the age of flappers and 'illegal booze'. The graphics are going to have 'the look' of the period and really set the tone for the game." …
Other Sierra titles for 1989 include three more adventure games, a new word processor, and perhaps the strangest addition to Sierra's product line yet, a self-help product on "How to Win in the Work Place.
"How to Win in the Work Place is a pet project of John Williams, Sierra's Marketing Director. According to John, "I started as the marketing manager at Sierra when I was 18 and fresh out of high school. If it wasn't for self-help instruction, I wouldn't have the job I have today." John is quick to point out that he will not write the series himself. "Only a truly great therapist can do self-help therapy"… The new product will be designed and produced by Jesse Ivanhoe.
Finally, the first of Sierra's new releases in 1989 will be Hoyle's Book of Cards. Hoyle's is the first new design by **Warren Schwader in over four years. Veteran Apple owners will remember Warren from his early classics Threshold and Sammy Lightfoot.
That's it for "Heard It in the Hallway" for now. Look for more hot rumors in future issues.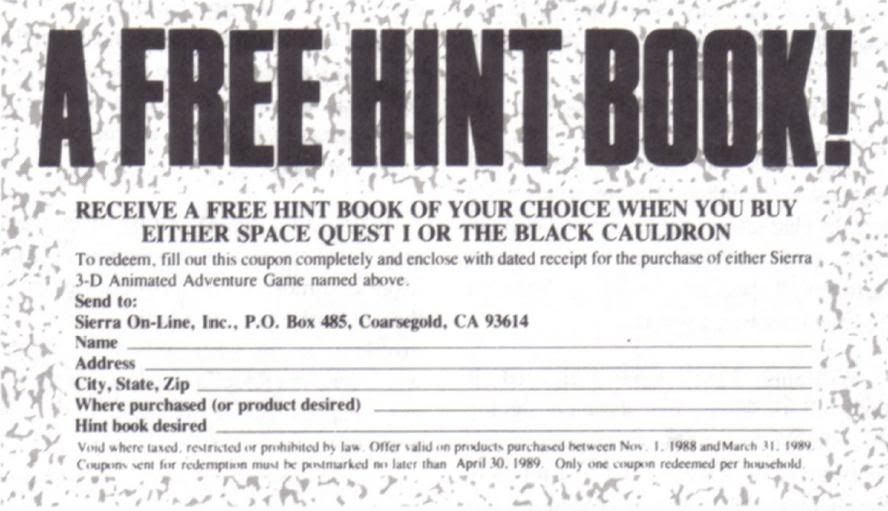 ---
This website is © 2010-2011 David Reese. All rights reserved. All images and content, including, but not limited to, the Interaction Magazine logo and articles from the magazine, are the property of their respective owners. Interaction Magazine has been made available to the public on the SierraGamers website, and is considered a part of the public domain. Image hosting provided by Photobucket.